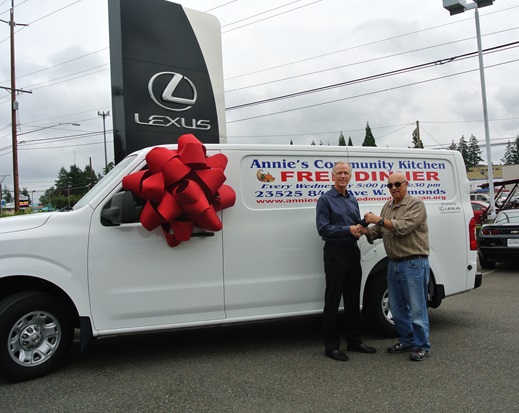 Lexus of Seattle in Lynnwood has been a long-time supporter of community based organizations in our neighborhood.
They recently donated a 2012 Nissan Van to Annie's Community Kitchen at Edmonds Lutheran Church.
Annie's Community Kitchen (www.annieskitchen.edmondslutheran.org) serves a free meal at Edmonds Lutheran Church from 5-6:30 pm every Wednesday night. The program receives its supplies and foodstuffs from a team of gleaners that collects nearly three thousand pounds of food every week. The food is collected by volunteers, used for the community meal, and the rest is distributed to other local food banks and feeding programs.
Edmonds Lutheran's gleaners have a van that goes out seven days a week to collect these food donations. Lexus has been donating maintenance on the van for years. But recently, Brad Castonguay, General Manager of Lexus of Seattle in Lynnwood told Annie's Kitchen volunteers, "The repairs on this van are just getting to be too expensive. I think I have a solution for you."
Soon after that, Bob Snyder, the co-founder of Annie's Kitchen rolled into Lexus to see a beautiful, clean van with minimal miles on it. Brad gave him the keys. "I think this will work much better for you," Brad said with a smile.
Working on faith and a shoestring budget, Snyder was speechless. "Every morning before I would fire up our old van, I would say a little prayer that it would start. So many people are counting on us, and if the van breaks down, our program comes to a halt. I don't know if we can ever express the gratitude we feel to Brad and his team at Lexus.
Annie's Community Kitchen welcomes everyone, we serve a free hot and delicious meal every Wednesday night, 5-6:30 pm at Edmonds Lutheran Church
23525 84th Ave W, Edmonds, WA 98026
Free and open to all – Everyone is Welcome