Congratulations on your Retirement Larry!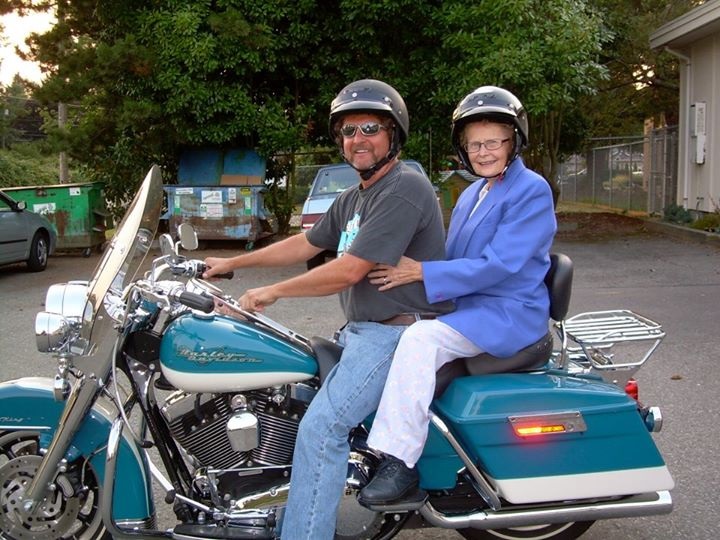 One of the first volunteers to join the team at Annie's Kitchen was Larry Ringstad, a curly topped ball of fire with the healthiest lungs that never warrant a microphone for
anything. Whenever an announcement needs to be made on Wednesday night, his heralding voice, calling out "Hello, Hello, Hello!" can be heard from Mukilteo to Seattle.
That's Larry, one of the most loyal of visionaries that has made Annie's Kitchen, over the years, a household name in our neighborhood. After 30 years of service at Boeing, Larry
retired this month, and according to Joanie, his sister and loyal comrade in the kitchen, Larry is now consumed with a "honey-do" list, that is happily being compiled by the extended family.
"Larry is so great because there is nothing beneath him, nothing he won't do….he'll be the head chef and he won't hesitate to be on garbage duty. To him, its all a part of serving others," expresses Joanie.
Carrie Snyder explained that Larry learned about ACK, the start-up ministry, 10 years ago through his hair dresser, who at the time was also cutting Annie's hair.
"It was always a part of our family values to be engaged and to give…our mom was also active in a local community feeding program, so its just kind of in our genes," shared Joanie.
"I can always count on Larry if there's rumpus about. He's always there, he knows everyone's name and he's so kind. He'd get up to go to work at 3 am, work all day, go home and take a power-nap for 15 minutes and be here on the dot at 4 o'clock to help with dinner. I so depend on him," was Annie's accolade for Larry.
Bob Snyder shared the same sentiments, "He's always there, a guy you can count on 100%. We are so lucky to have him."