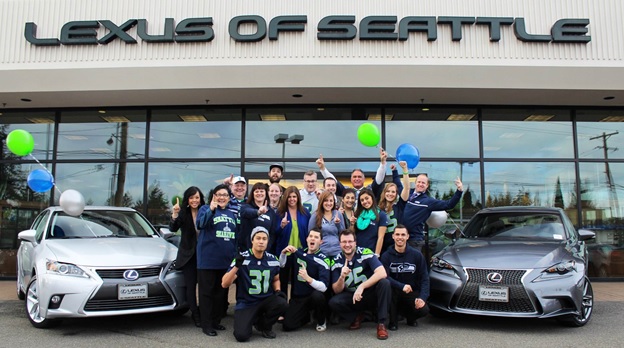 Lexus of Seattle Provides Priceless Gift to Local Charity: Peace of Mind
Annie's Community Kitchen (www.annieskitchen.edmondslutheran.org) serves a free meal at Edmonds Lutheran Church from 5-6:30 pm every Wednesday night. The program receives its supplies and foodstuffs from a team of gleaners that collects nearly three thousand pounds of food every week. The food is collected by volunteers, used for the community meal, and the rest is distributed to other local food banks and feeding programs.
Edmonds Lutheran's gleaners have a van that goes out 7 days a week to collect these food donations. Bob Snyder, the gleaner's team leader received a surprising call last week from Lexus of Seattle: "We understand that van of yours needs a little work, why don't you bring it down and we'll advise you."
So Snyder did.
The next day he returned to receive a laundry list of items that were in dire need of repair. From brakes to fluid changes, to timing belts and serpentine belts, the list went on. Gratefully, Snyder declined the offer, admitting, "We simply cannot afford this."
Brad Castonguay, General Manager of Lexus retorted saying, "Well, we simply cannot afford to have that van breaking down. Come back tomorrow and we'll have everything taken care of, on the house."
Working on faith and a shoestring budget, Snyder and his gleaners were speechless. "Every morning before I would fire up the van, I would say a little prayer that it would start. So many people are counting on us, and if the van breaks down, our program comes to a halt. I don't know if we can ever express the gratitude we feel to Brad and his team at Lexus, we feel like we are driving a new van now," expressed Snyder.
Castonguay further explained, "When I met Bob he told me about all the businesses who donate food to Annie's kitchen. When Bob told me he totally depends on one van to pick up food donations, I offered to have our service department recondition the van. I appreciate him giving us the opportunity to help"
The feeding programs and food distribution programs at Edmonds Lutheran Church are solid expressions of the Gospel," expressed Rev Dr. Julie Josund, Pastor of Edmonds Lutheran Church. "While we are looking out for the needs of our neighbors, wonderful businesses like Lexus are looking out for us, and that's what makes this community so great."
Annie's Community Kitchen welcomes everyone, we serve a free hot and delicious meal every Wednesday night, 5-6:30 pm at Edmonds Lutheran Church- 23525 84th Ave W, Edmonds, WA 98026 Free and open to all – Everyone is Welcome